Restoration Project - Old Brookside Cemetery, Waddington, NY


Christopher L. Gollinger and Eric W. Snyder pile gravel underneath a newly leveled gravestone at Old Brookside Cemetery.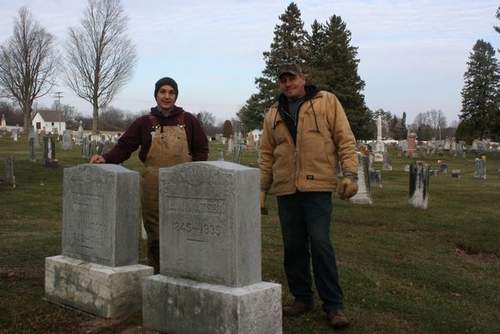 FULLY RESTORED - Christopher L. Gollinger and Eric W. Snyder stand in front of newly restored gravestones
in Old Brookside Cemetery, Linden St. The crew has restored over 200 gravestones in three weeks. (Purcell photo)


---
By AMANDA PURCELL - JOHNSON NEWSPAPERS - FRIDAY, DECEMBER 14, 2012
WADDINGTON — Eric W. Snyder and Christopher L. Gollinger have found joy in the darkest of places.
"I think I've found my calling," said Mr. Snyder as he proudly pointed Thursday to the 200 newly restored gravestones in Old Brookside Cemetery.

The two gravestone restorers of Witherbee and Whalen Inc., Canton, have worked tirelessly for the last three weeks to repair and restore gravestones in the cemetery.

They began with the oldest part of the cemetery, working with stones from the 1800s, before making their way down to the newer plots.

"It's a big job," said Mr. Gollinger. "Some stones are harder than others. Each stone is different and some are very old. You have to take care."

Repairing some marble stones involves a simple process of pressure wash and acid treatment to remove 100-year-old moss and debris. Other stones needed to be jacked up and leveled before installing a gravel foundation. Some larger stones that have been set into wet concrete require a lot of pressure before they "pop" out of the cement, Mr. Gollinger said.

"It can be a bit scary when they pop up," he said. "If it falls on you, you're sure to break a few bones."
The $14,500 project is being funded through a family trust donated to the Old Brookside Cemetery Association. Town Councilman and Cemetery Association liaison Travis S. McKnight said he has already noticed a drastic difference in the overall look of the cemetery.

"When I first went and looked at it, granite stones were tipped over and driven over with lawn mowers, and very few, if any, were straight. They were all leaning over and discolored with moss and growth," Mr. McKnight said. "I notice now the stones are very clean — cleaner than I expected and straighter. They even put a level on each one."

Mr. McKnight said he has stopped in several times to check on the cemetery's progress.
"They really seem to take a lot of pride in the work they do," he said.

Next year, the association hopes to install stone roadways so people have access to the cemetery in all weather conditions, Mr. McKnight said.

But for now, the two-man crew said they will work another week or two before breaking for winter. The project will resume in June and should take another three months, Mr. Snyder said.

"When it gets colder out, you can't dig in the ground and some stones get frozen to their foundation," Mr. Snyder said.
"We broke a shovel digging into the ground the other day," Mr. Gollinger said.

The pair has restored cemeteries in Rensselaer Falls, Pierrepont, Canton, and Russell. Mr. Snyder said he has held several jobs throughout his life, but he thinks he has finally found his niche.

"You get to be your own boss out here," he said, looking out over Sucker Brook. "I like working outside, especially on days like today."

Both men said they enjoy the work they do for the families who visit relatives in the cemetery.

"I love doing it," said Mr. Snyder. "It's nice to look back at what you've done and see the difference. It makes you feel good."