Witherbee & Whalen: Our Community

Witherbee & Whalen, Inc. is proud of our involvement with our North Country Community projects. The Russell Cemetery restoration is a great example of our collaboration with local communities.

Learn More...
---
Witherbee & Whalen, Inc. was featured on the cover of the March, 2006 publication, Absolutely Business, a magazine distributed to businesses and civic leaders in Jefferson, Lewis and St. Lawrence Counties.

The article, written by Wil Hansen, is subtitled, Two Sisters Run Concrete Business: Attention to detail, personalized service and community involvement has helped concrete business thrive for more than a century.

Click the photo of the cover for a larger view.
---
We donate both our time and talents to various community projects and groups.
| | |
| --- | --- |
| Art students from a local high school pose with pieces of Potsdam Sandstone ready to try their hand at layout and sandblasting. | High school art students listened to George Ladison explain the finer points of monument making. |
---
Cemetery field trips include how to make a rubbing of historical monuments...

Roberta Whalen Yaeger shows an interested group of 4th graders the original 1925 purchase order for Irving Bacheller's memorial. Irving Bacheller was a local author, well known throughout the North Country.

Roberta explains to the students how rubbing paper works and demonstrates how a rubbing is taken. She uses a crisp dollar bill. Tradition says, a crisp dollar bill will make the best impression.

After learning about Irving Bacheller and his memorial, the students try their hands at taking their own rubbings.
---
Plant tours for the SUNY Canton mortuary science students...

Shown here are students from SUNY Canton's Mortuary Science Program a few years ago. Many of these students now work in funeral homes in the North Country.
---
| | |
| --- | --- |
| | It was a perfect day (overcast) and a good turnout for this cleaning seminar at a local cemetery. |
---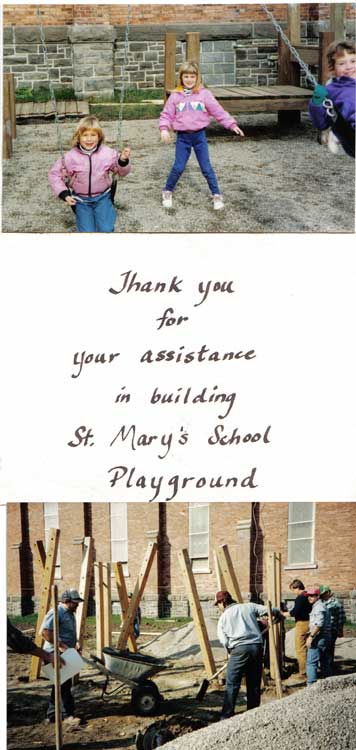 ---
North Country Trivia...

Ever go to a fire department chicken bar-b-que and wonder about that big concrete box with the grate on top that they cook all that chicken on? It is the bottom half of a concrete septic tank, a new one of course! Witherbee & Whalen, Inc. has donated "chicken bar-b-ques" to almost every fire department in the North Country.